News
£30,000 Investment in New Planetarium To Boost STEM Learning In Local Schools
Monday 25th April, 2022
The University of Hull has invested £30,000 in a new mobile planetarium which will improve STEM learning in local schools and colleges.
As you enter the inflatable dome, the impressive projector projects images and movies of stars, galaxies, planets, and comets onto the interior of the massive planetarium.
It is suitable for children from nursery age all the way up to 18. Older children will look, for example, at forces and fusion reactions and the balance of pressure, whilst younger children will look at where in the solar system they would most likely go on holiday – you can go to Uranus and witness a diamond thunderstorm!
The new planetarium is also more accessible for SEND (Special Educational Needs and Disabilities) pupils.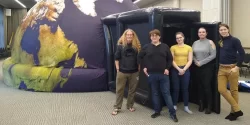 Professor Brad Gibson, Head of the Department of Physics and Mathematics at the University of Hull, said: "When I deployed our original mobile planetarium in 2017, we had really underestimated its potential for impact across the region. Over the subsequent three years, our team of undergraduate students, led by Daniel Whitt, grew into leadership roles, designing and delivering nearly 200 shows to 5,000 students.
"Three-quarters of the students reached were from schools in socio-economically challenged regions, a philosophy for which underpins everything we do in running perhaps the most ambitious outreach programme in the country.
"Our investment in the new and even more expansive mobile planetarium will only increase the impact that our students have already had on thousands of other students; the incredible success of the programme is truly a testament to the passion of these students and their commitment to widening participation."
 Professor Brad Gibson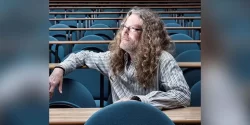 The planetarium can fit 25 adults inside, or a class of 30 pupils with a teacher and two University staff members.
A big aim behind the planetarium is to encourage more young people to pursue careers in STEM subjects.
The planetarium has already received significant interest from schools and colleges. Along with the planetarium itself, the University team will also take telescopes into the schools they visit.
The team are applying for a further grant to be able to take the planetarium to some of the schools across the region which struggle the most to support external visits such as these.
They are also interested in utilising the dome for community events and for the general public, outside of school term times and university trimesters.
Physics at the University of Hull rose significantly in the 2022 Guardian University Rankings, and is now placed 7th out of the 51 higher education Physics providers across the country.
Visit the Physics & Astrophysics subject pages for more information.